Marketing & Event
Outbound marketing
Outbound marketing thrives in B2B marketing automation. You can send emails and newsletters, create forms and landing pages to capture leads that you can score, grade, and then hand off to other business units. BizConnect also has a great feature for managing in-person events and webinars that includes seamless integration with Microsoft Teams. Out of the box, outbound marketing provides email and social channel capabilities, but you can also build your own custom channels. 
Develop a list of companies to assist: Capture enquiries, qualify to opportunities to assist with, automated scoring, and manage enquiries through a custom business process. 
Leverage the power of social media: Post messages to Facebook, Instagram, and Twitter. Capture enquiries from LinkedIn. 
Get customer feedback using surveys: Create online surveys and build customer journeys based on responses. This feature is bundled with the Marketing app but is also available separately as an add-on for other BizConnect products. 
Manage all your event needs in one place: Dynamics 365 Marketing's event planning features allow seamless contact, registration, and attendance management features in one system. 
Meet your audience where they are: Host webinars on Microsoft Teams or on other webinar providers. 
Continue the conversation with webinar participants: Stay in touch with your webinar participants after hosting a webinar. You can send personalised registration materials, send surveys, and more to drive awareness and engagement. 
Marketing Templates 
The templates included with BizConnect marketing provide: 
A starting point to help you work more quickly. 
Advanced layouts based on responsive design techniques that help make content look good at any screen size. 
A harmonious colour palette with a manageable number of colours that you can easily adapt to your own organisation's identity. 
Tried-and-true designs that have been tested against a wide range of web and email clients to help ensure they will look great everywhere. 
The first thing you do each time you create a new message, page, or form is to choose a template. You can easily work with the supplied content and styles using the designer, but the column layout is semi-permanently established by the template you choose (you can only change it using the HTML code editor).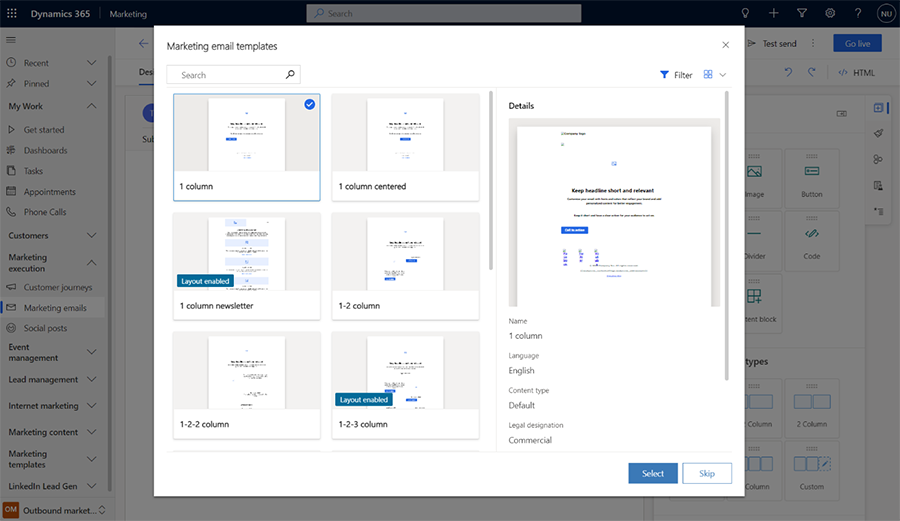 You can easily create custom templates to match your organisation's communication needs and visual identity. You can save any existing email or customer journey as a template by selecting  Save as template while the email or journey is open or work directly in the relevant templates area to create them from scratch. 
Email marketing 
The process for creating marketing emails begins with understanding what makes them such a powerful tool for your marketing campaigns. After you create a good design aimed at a specific segment of your audience, you preview it and check for errors before going live. You can fine-tune the reach and effectiveness of your message through advanced operations like merging database values, adding dynamic content, and introduce programming logic. 
Monitor the success of different designs throughout A/B tests, use built in tools to evaluate them and select the more successful template for future emails.