The Field Service Management Solution For All Australian Trade Businesses
Built on Microsoft Dynamics 365 and the Power Platform, FieldConnect is a tailored solution designed for Australian trade businesses. Empowering them to manage their company from the office out to the field by providing a centralised hub for information, communication and collaboration.
Working closely with our client, XRE designed FieldConnect as a trade-centric solution and app that manages your business.
Stay on top of your busy calendar with FieldConnect's centralised booking system. Schedule sales and technical resources based on their availability and skill set to carry out work at various locations. With the ability to view routes, travel time and real-time traffic updates ensure an efficient workforce and happy customers. FieldConnect's tailored processes help you manage every aspect of the services you provide, broken down into stages making it easy to see where each service request is up to. System automation replaces repeatable tasks confirming bookings, sales quotes, job allocation and attendance while managing the sending of warranty information to the customer.
Designed For Every Business
FieldConnect provides a configurable cloud-based solution that can be tailored to how your business works or wants to work.
Get in touch with our experts today to discover how FieldConnect can work for your business.
A modular platform - get only what your business needs
Increase sales
Increase sales by implementing a configurable sales process that equals higher close rates. Take advantage of workflow automation to drive consistent customer interactions while retaining customers and achieving a high level of satisfaction. Forecast with confidence and predict future revenue targets.
Select sales if you are looking to enhance your sales process and win work faster
Sales process
Empower staff to better serve customers with a sales process framework they can follow.
Opportunity management
Keep track of all sales enquiries through lead management.
Forecasting
Accurately predict your businesses revenue with sales forecasting.
Deal management
Use a dedicated workspace to efficiently manage your sales pipeline.
Reporting
Get access to custom dashboards to generate rich reporting to make decisions.
Quote, order & invoice management
Manage the pricing details of the services your customers are interested in and once they book in a service, create an invoice to bill them.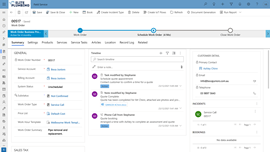 Customer retention
Maintain high standards, manage customer enquires, quality assurance, and warranty claims and drive higher customer satisfaction through the implementation of business processes and workflow automation.
Select customer service to drive higher customer satisfaction
Customer support
Track individual customer issues across channels and staff over time. Respond to customer claims quickly with automated escalation points.
Chat boxes
When self-service option don't solve customer issues, connect with the customer service team.
Quality assurance & warranties
Track customer support enquiries, quality control and warranties.
Visibility
See all activity history through a modern & optimised timeline.
Email integration
Respond quickly to customer interactions effortlessly through quick email access without having to change screens.
Reporting
Get access to insights and analytics to increase customer satisfaction and complete reporting/export to reports.
Powerful scheduling & trade efficiency
Book and schedule service requests smarter and faster. Service more customers by aligning resources with the right skillsets/assets for the job or project. Make your workforce more efficient by providing them with handheld devices to manage their daily workload.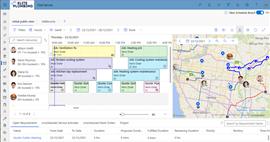 Select field service to optimise how you book and dispatch your team
Work orders
Provide staff job site information through work orders; location, time and tools and skills required for the job.
Preventive maintenance
Keep track of equipment that needs any maintenance.
Bookable resources
Schedule people, equipment and spaces through bookable resources.
Powerful planning
Serve more customers faster with embedded optimisation within the schedule board. Get access to arrival & departure times and job duration estimates.
Agreements
Set up agreements to automatically generate work orders and invoices.
Optimisation
Deliver exceptional onsite customer experiences while optimising resources and costs by dispatching employees when and where they're needed most.
Stock management
Stay on top of asset and stock levels and ensure each job has the materials needed.
First-time resolution
Build customer trust and loyalty by giving employees the right tools and the information they need to resolve problems the first time.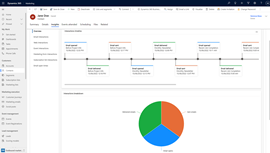 Drive engagement
Get access to rich insights to drive engagement and reach new customers to keep your business top of mind. Connect with your customers at all touchpoints, leveraging the right channels at the right time to strengthen relationships and earn loyalty.
Select marketing to drive engagement and connect with your customers
Digital content design
Set up reusable templates and save time when creating emails, forms and pages.
Customer journeys
Visualise and automate the journey that customers take on their way to contacting your business.
Email campaigns
Design professional-grade emails, run A/B testing and review rich insights to increase engagement.
Surveys
Better understand your customers with short surveys and key performance metrics.
Segmentation
Connect with groups of related contacts with content they want to receive.
Event planning & management
Arrange, execute and follow up on events and webinars.
FieldConnect App
Provide your workforce with the flexibility and convenience they require to manage their daily tasks easily and effectively. The mobile application provides resources with an easy-to-use application that can:
Manage daily appointments
Create job quotes and take deposits
Capture arrival and departure times
Upload before and after photos
Write job notes
Accept payments
E-signatures
Select FieldConnect's App to empower your staff to manage daily tasks.
Ready to transform your workplace?
Request a demo or talk to a FieldConnect expert now!