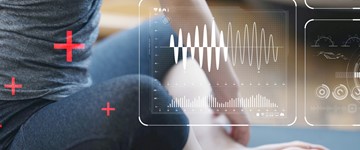 About Worksite Fitness & Rehabilitation

Worksite Fitness & Rehabilitation (WFR) is an Australia-wide, leading provider of injury
prevention, health, and wellness services. With a specific focus on labour-heavy
industries such as the mining and energy sectors, WFR specialises in health and
wellbeing support and preventing worker injuries.
A critical part of Worksite's business operations is the management, security and
accuracy of client data.
The Business Need
In 2015, Managing Director Steve Gauci was referred to XR Elements for some initial
system and workplace technology support, specifically around business development.
WFR had been reliant on a complex Excel spreadsheet using macros and dashboards
to keep track of key customer and patient data. As the business grew, the spreadsheet
began to strain. Whilst well designed, the spreadsheet was becoming clunky which
caused frustration amongst end users. In 2018, Steve began exploring options for
a more integrated, and technologically advanced, database solution. Following a
conversation with Mark Fowler, XR Elements were included in the tender process.
The challenge
database from scratch which would provide bespoke capabilities. However, for a small and
growing business, this option was not cost-effective. Mark and the XR Elements team took
a different approach, proposing deploying Dynamics 365 and configuring it to meet the
needs of the business.
"Mark and the team already had a good understanding of our business. His suggestion of
implementing Dynamics and configuring it to meet our needs was sensible and far more
cost effective than building an entirely new and bespoke platform," says Steve.
In addition to improving access and data security, Steve was keen to improve the reporting
capability of the business.
Following a series of face-to-face and virtual meetings with WFR, XR Elements presented
a plan that would involve a four-stage development process including a three-month build.
With the solution and plan agreed, the XR Elements team set to work implementing Dynamics
365. To ensure the platform was correctly configured, there was a lot of consultation and
refinement tweaks with the WFR team.
The biggest implementation challenge came in the form of migrating the existing data out
of the excel spreadsheet.
"We had assumed it would be a bit easier to migrate than it was," adds Steve.
The data needed to be cleaned and validated before migrating into Dynamics 365, requiring
a lot of time and input from WFR staff.
Learning to use the system was straightforward and didn't present any issues. Staff quickly
became familiar with inputting data and generating reports.
---
Key Outcomes
Improved time efficiency, security & reporting
With the system active, the improvement in time efficiency has been dramatic.
Previously, time was spent fixing bugs and manually manipulating data. Now, the
data was accessible to users with the click of a button. In addition, the solution vastly
improved the security of the data, which included personal identifying information (PII),
and significantly reduced the risk of data breaches.
"We're still learning and working out the best practice to give us the reports and
outcomes we want. We're still working with XR Elements to identify certain facets,
including the current layout," says Steve.
As well as increasing the accessibility and reducing risk, WFR can now produce
superior reports that look and read much better than the previous versions. For Steve,
the improvement in reporting capabilities is so great that it gives WFR a competitive
advantage.
Internally, the platform has been well received by the WFR staff. As well as being easy
to use, the system prevents incorrect data being input, saving a lot of time and effort
correcting data retrospectively.
"The overall outcome is great. I think this has a lot to do with the support and regular
contact we have had with XR Elements. They have always been responsive, and they
took the time to get to know our key staff and understand issues and needs across the
business," notes Steve.
Know your scope
Steve believes the key to a successful database transformation project is ensuring
you understand every business is different.
"You need to know why you want this tool, who will be using it and how? Spending
time on scoping at the start will allow your partner to really understand your data and
needs. XR Elements did this well, they made sure everyone was clear on the business
needs, wants and the outcomes," says Steve.
---
The Future
Once the data migration is complete and the dust settled, Steve plans to invest in
additional elements to optimise the database from an operational standpoint. To do
this, Steve plans to rely on XR Elements for ongoing support.
"I have no doubts that our relationship with XR Elements is a long-term one. We aren't
database experts and they aren't health providers, by working together we can align
our expertise and drive the platform forward," concludes Steve.